PLEASE ENSURE YOU READ ALL OF THIS PAGE AS CERTAIN EFFECTS SUCH AS BULGES, CONVEX, WAVES ETC AFFECTS THE OVERALL HEIGHT AS DESCRIBED FURTHER DOWN THE PAGE.
*****
Background Preview Colour
This is for preview purposes only - no background is supplied - only the cut vinyl letters pre-spaced on application tape. If you need a boat name with a background colour/panel, then please contact us for a quotation.
The letter height is based upon the first CAPITAL LETTER HEIGHT for the main lettering only excluding effects such as shadows or outlines. Bear in mind that it also affected by the tails of letters such as 'y' and 'p' depending on the font. Please see the examples below as a guide, which are for a 100mm height selection.
If you would like us to confirm sizes or letter heights for you, please email us with your requirements and will will advise you accordingly. Note : If your name has a shadow or outline, the letter height will be governed by the front/non-shadowed height.
If you have special size requirements or space restrictions and would like us to confirm exact measurement of any text, please contact us for assistance prior to ordering, as these products are custom made and are non-returnable.
Return to the Lettering Designer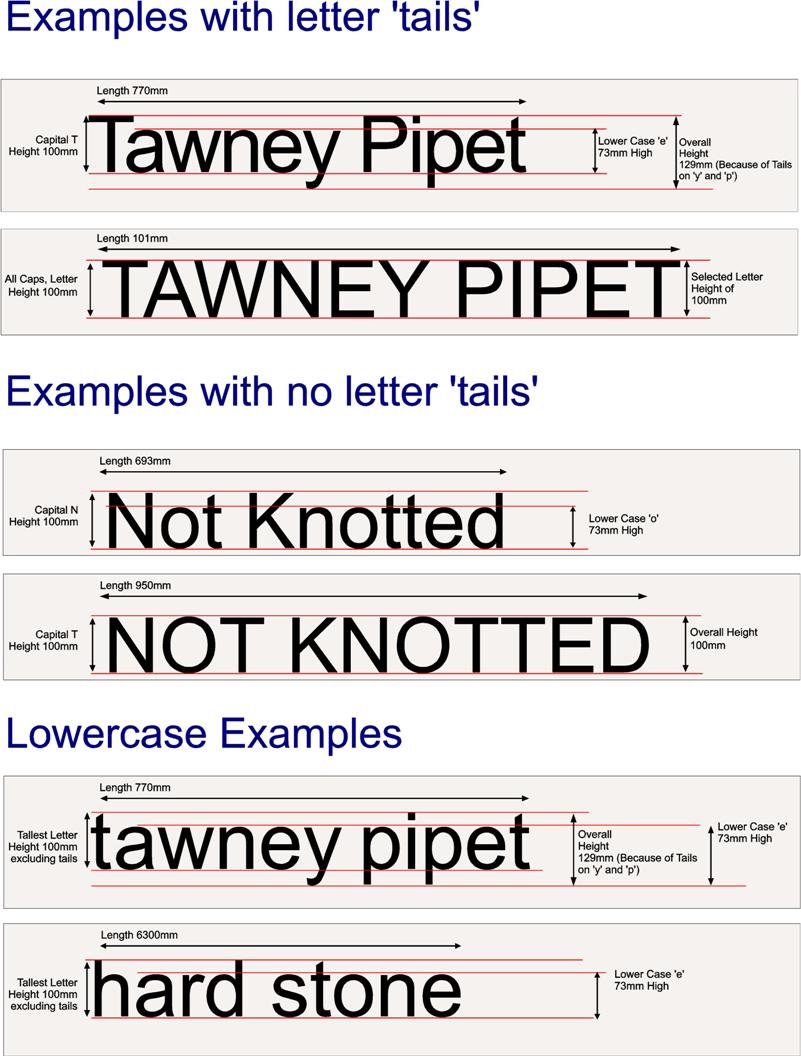 BulgeTop, Wave, Arch and other effects
The letter height is based in the same way as normal lettering above for arched, wave and bulge text.
Convex and concave effects, it will be based upon the overall height, which may affect the estimated length, so please contact us if you need a definitive length.
Please note that different fonts give different measurements - any length given is a guide only. Please contact us if have have exact and specific requirements
Return to the Lettering Designer
Using the Lettering Designer
To design your Boat name or other vinyl lettering, just enter your text (do not 'Paste'), Choose your font, colour and any optional shadow, outline and special effects. You can change the shadow position by using the 8 position box.
Return to the Lettering Designer